A deflection, a donnybrook and an opportunity for sweet #AusPol merch squandered… We're wondering who escaped Question Time's first week with their dignity intact. (Trick question.)
This is coal.
This, unfortunately, was the tone of the week.
Everybody's favourite afternoon assault on the senses, Question Time, returned to our frontal lobes this week with such blinding juvenility that I'd much rather prefer to have my eyes cut out to wander the Canberran streets blissfully unaware. Lest it see more, prevent it. — Out, vile jelly.
Criticism of politics is a lot like waiting for a bus: a lot of nothing, then one arrives with an explosive attached to the undercarriage, placed there by an unhinged, rhetoric-spewing gentleman, controlled by a halfwit with foolish hair and a propensity to be shocked (hello, to you, Mr Hopper).
Winners
Ray Liotta, for being the obvious choice to play Cory in the "Bernardi" biopic.
It was indeed a historic week where Mal's favourite Albatross, Cory, flew the nest and thusly turned into a rat. However, not just any rat, but in the words of The Big Smoke's #AusPolcanalyst, Audrey Hepburn: "a super rat." Now, with his newfound fame in the underworld of political turncoats comes the celebrity kudos. And once you farm the kudos (and sell it to China) it then germinates into the movie deal. And with Hollywood enamoured with the remake, why not seminal gangster flick Goodfellas?
It'd be perfect. Cory, Ray Liotta can play you and Joe Pesci can play Malcolm Turnbull. Last scene, picture it: you've left the familiarity of the Coalition, and now free to spend your time as a fringe pollie that a comparative few now respect. Roll cameras!
See! We can even call it Pollfellas. Go get yer fucken ballot box!
Senator Scott Ludlum, for calling a spade by its Christian name. With the land before Question Time now gone for another year, the landscape has changed, now entirely constructed by the primordial goop of wasted conversation (a land walked by dinosaurs, granted), the air thick with the buzzing acrid funk of hissing Darwinian verbals. Praise to you then, Senator Ludlum, for coming straight to the point.
question time is still utter crap.

— Scott Ludlam (@SenatorLudlam) February 9, 2017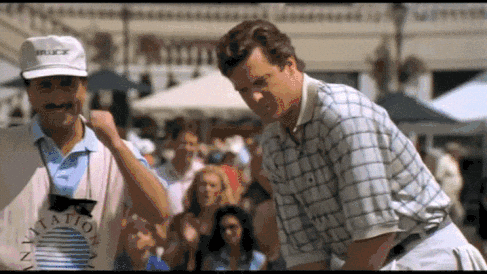 ---
Also on The Big Smoke
---
Losers
Malcolm Turnbull, for letting us get to him. Malcolm's outburst, although entertaining, was difficult to watch. While the collective media went "ooo" at the sight of Mally finally finding his downstairs dancing equipment to dangle it on the feelings of Billiam Shorten, looking back, a newsday later, it's not a good look. You see, Turnbull has long been the verbose scalpel of #AusPol, a counter to the blows of the rusty, blunt cleaver swung by Butcher Abbott. Yes, while he has largely let us down, he's handled our criticism, and indeed announced disliked policy in fractional shades of eloquent verve. In 2017, however…not so much.
It kind of reminds me of the rich uncle at Christmas, the one everyone subtly negs for being rich, getting into the Sherry and telling everyone what he thinks of them while the family avoids eye contact. If this is the new Malcolm, the "no more Mr nice Uncle Mal" version, then some of that claret spilt on our parkas is indeed on our faces too.
Ian McDonald, for biting off the hand that feeds him.
Oh Ian, you utter, utter plank. For those of you who don't know, Ian McDonald is the representative for the seat of Kosciusko, named after the mountainous rock he seemingly lives under. In the age of extracurricular political entitlements and our problem with it, Ian has gone the other way, deciding that we should protect the status quo, because, and I'm not kidding here, "politicians don't earn enough".
(FYI, the base wage for a Senate backbencher is $195,130 per annum.)
LNP Senator Ian Macdonald says the decision to axe the travel gold pass for politicians is 'retrospective legislation at its worst' #auspol pic.twitter.com/ZvUaJGbs5z

— Sky News Australia (@SkyNewsAust) February 9, 2017
Well done on the term "commentariat". I'd also like to remind you that the wall came down, and the Cold War is over. The aforementioned "gold pass" allows pollies to travel first-class, free of charge, for life, and is set to be axed by the Coalition, with Mr McDonald set to vote against it. His own party. Hooray entitlements.
I don't want to dip to cynicism here, but on one hand, we have poor people being ruthlessly pursued for debts they didn't acrue and on the other, we have an overpaid person opining to keep a benefit they don't deserve.
Eh?
---
Also on The Big Smoke
---
Honourable mentions
The "Golden Emerson", awarded to those who waste everyone's time with complete verbal tosh, goes to:
Nick Xenophon for his "cunning stunt". After this, plus Ed Husic's skeleton bit, I'm fairly convinced that there's a novelty shop in Canberra that solely caters for the tortured metaphors of the political elite. Welcome back to the familiar, rainy shores of abject insanity because this joke needs some explaining:
Someone who's never shy of a stunt….here's Senator Xenophon with his new Trump door mat. @mearesy picture. pic.twitter.com/JlVlUCO5Os

— Stephanie Peatling (@srpeatling) February 6, 2017
Not the joke itself, but rather the why. Why did this happen? Was there any point perhaps, in hauling a fucking doormat through his commute, that he felt regret? Moreover, where's the doormat now? Yes, it's not the Heart of the Ocean scale antique, but I call for a worldwide search nonetheless to claim back this historic artefact of 2017's stupidity. We'll get Ian McDonald to head the expedition.
The "Bushie", the George W Bush commemorative plaque to honour outstanding performance in the field of trumpeted "fact", goes to:
Kellyanne Conway, although this is a slight cheat here since it's no longer #AusPol, and Kellyanne Conway is an island upon herself as far as criticism goes. This week (and last) Conway taught us the important differences between a "nice" massacre and a not nice one. As most massacres are committed with, and I'm speculating here, but, guns, it's hard for the GOP to score political hits (sorry) after the body count is totalled, because…you know…the whole gun lobby thing. However, ever the agile and innovate pollie, #KellyanneForPM, Conway decided to start her own massacre. You could argue that Conway pulled the trigger on Bowling Green, which I totally agree with. If you're going to create a bloodbath for your own end, make it fictional. That way no-one is left out.
See you next week.